Our brave and blistered team from The Property Centre completed The Cotswold Way Challenge on 16-17 June, walking 100 km in under 36 hours and raising over £3,000 for the Estate Agency's nominated charity, National Star.
To mark our 20th Anniversary in 2017, The Property Centre is doing 20 things to support local charities but the Cotswold Way Challenge was, by far, our toughest challenge to date. 16 staff members from different branches volunteered to take part in this arduous challenge and it was an early start.
Having set off just after 5 a.m., it was a steep climb through Bath, past gorgeous Georgian properties and onwards to the race course. Then followed the Cotswold escarpment, across fields and meadows, to a café at Cold Ashton where the team faced their first obstacle – a flock of Emus, chasing them across a field!
Walking past the National Trust's stunning Dyrham Park estate, through pretty churchyards and leafy lanes, there was a welcome lunch break just outside Chipping Sodbury. By then the blisters were beginning to bite and the temperature was soaring. The Tower at North Nibley looked impossibly far away but Partner, Steve, became 'DJ Jones' and kept the group going with his music playlists.
Our team arrived safely at the campsite in Dursley that evening. They dined in style thanks to 'Chef au Van' who served fragrant garlic & ginger chicken, amazing lamb koftas and spicy pork curry along with ice cold beer and cider, all of which went down a treat - as did the bacon baps the following morning!
Day two was gruelling. The team's jokey banter from the previous day was replaced with steely determination to get the walk done. The relentless sun was beating down on our walkers who were spurred on by the smell of wild garlic and breathtakingly views across the valleys. After a brief lunch stop in Painswick, finding a "Keep Going TPC Team" poster pinned to a tree really helped boost morale when feet and knees were badly hurting.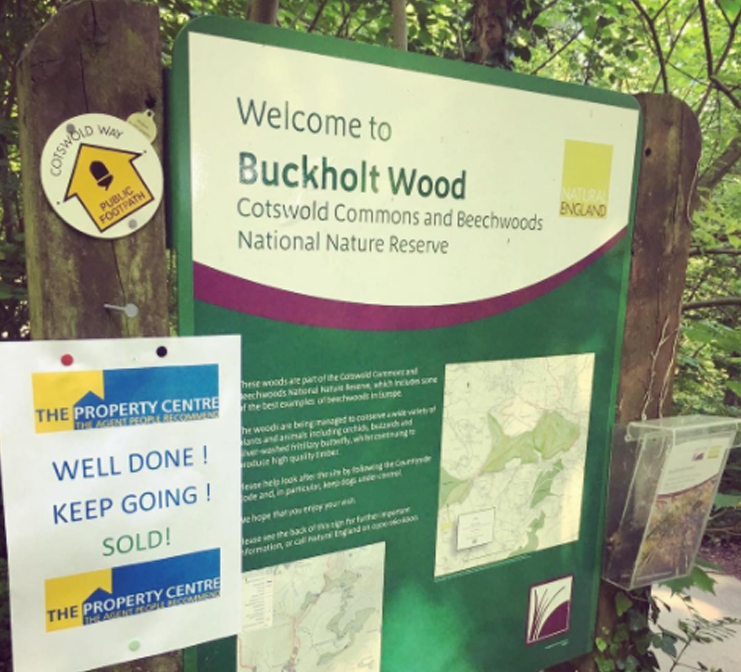 Crossing the finish line at National Star's Ullenwood campus, our team was exhausted but euphoric. "I've never been as pleased to reach a destination in my life!" said Partner, Stuart Nash. Relief turned into celebrations later, with pizza and beer at Zizzi's.
You can still make a donation to our team here and don't forget to follow us on Facebook, Twitter and Instagram to keep up to date with our charity work in 2017.
Thank you to everyone who supported us in this event – we really appreciate it.