Whether you're hoping the summer will last a little longer, or you're ready to embrace the pumpkin spice and cosy nights in, there's no denying autumn is fast approaching.
With many people continuing to work from home, comfort, escapism and luxury are key trends for living rooms in autumn 2021, creating a place for relaxation and peace that's separate from the workplace.
In the latest living room trends, it's all about making the most of the space you have, with the central themes being around comfort, convenience and colour. Here's 6 trends to embrace in your living space this season.
Dog sofas
While the latest lounges need to work harder than ever to accommodate our ever-changing needs, their primary purpose will always be relaxation. Comfortable seating that suits every member of the family, including our furry friends, is a must for every living room.
The UK now has more than 9.6 million pet dogs, according to the PDSA and it's this devotion that has inspired retailers to create sofas specifically designed for our dogs.
Warm earthy colour palettes
Nature continues to be a significant theme in interiors, influencing the deep green and earthy toned colour schemes for living rooms.
Green is the colour of nature and we associate it with the calmness of the outdoors – making it an ideal hue for relaxing spaces such as living rooms. Pair it with shades of rusty orange and muted peach, as well as browns, such as pale mushroom, terracotta and bitter chocolate
Try pairing your earthy neutrals with an accent rich yellow to add personality and depth, or alternatively, layer experiment with various shades of the same colour palette to create a comforting look.
Cosy fabrics

Boucle and furry fabrics bring warmth and texture to a room. Add it to your existing decor with accent pieces like woven pouffes or wool blankets for a quick, autumnal, living room update.
Bring life to a window seat with a cosy throw or cushions and set the tone for autumn whilst giving you the perfect place to snuggle with a good book.
Vinyl flooring with statement rugs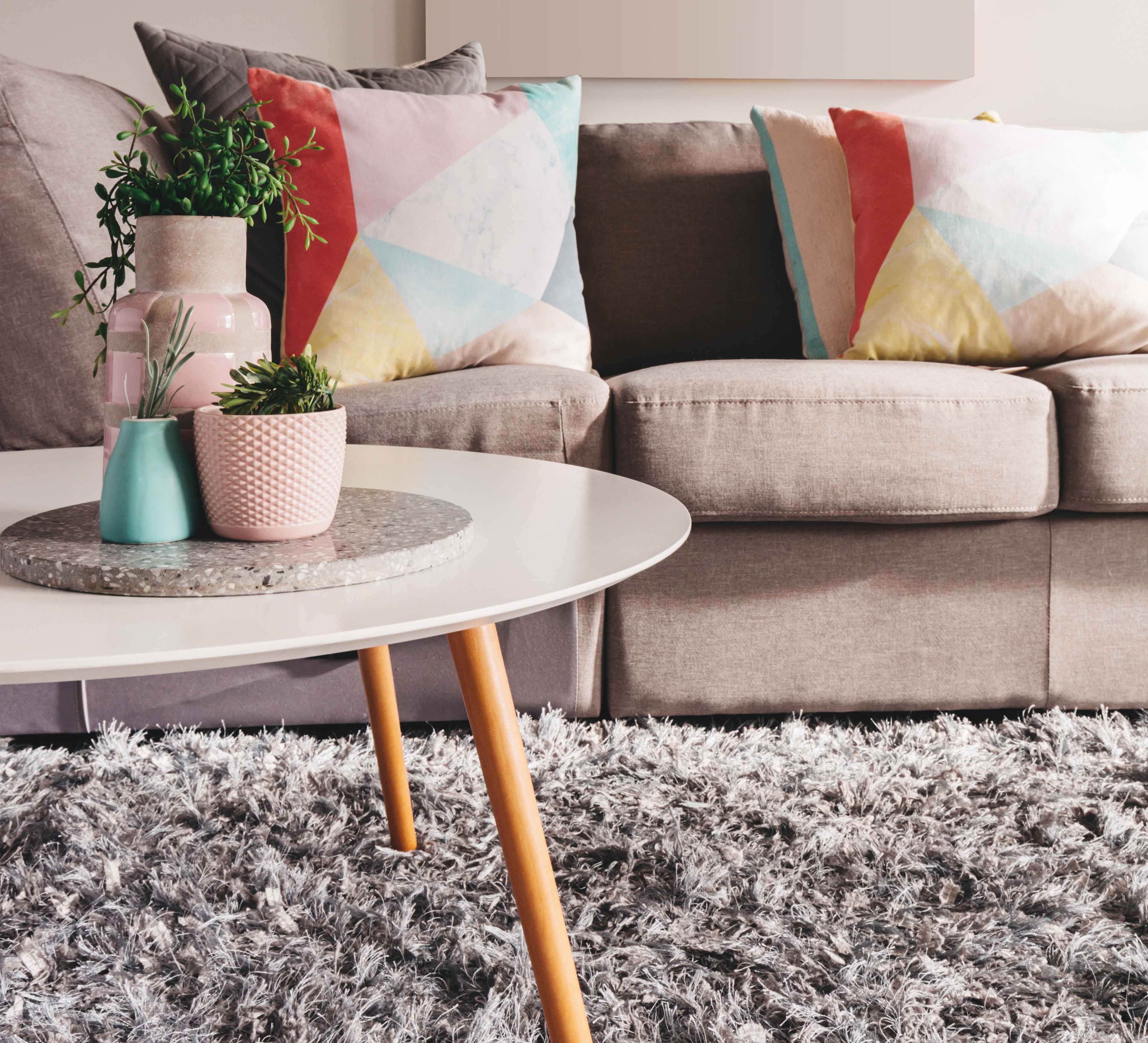 You may already have vinyl for your kitchen or dining room, but it might be time now to think about using this trend in your living room, as an easy-to-maintain flooring option. Pair it with a statement rug to introduce colour, texture and warmth to the room.
Bring the outdoors in
This trend is about bringing outdoor elements inside through furnishings, textures and patterns inspired by nature.
As well as this, incorporate deep shades of green on your walls, fabrics and home accessories, whilst also maximising natural light for that outdoor, natural feel.
Large leafy plants add a sense of escapism, calm and relaxation to our living rooms.
Try switching to natural fibres in furnishings and fabrics too - think: rattan, cane, wicker, wood, wool, linen and cotton.
Vibrant wallpaper
Wallpaper is brilliant for adding colour and pattern. As the ultimate way to spruce up a tired-looking wall this autumn, try creating a contemporary and stylish space with a wall mural.
For bringing the outdoors in, opt for floral motifs, leafy patterns or wildlife-inspired scenes.