With the rules relaxing to allow up to six to meet in private gardens at the end of this month, now's the time to transform your garden into an outside living room for entertaining when the sun shines.
Homebuyers are craving outside space when searching for their dream home, so if you're thinking of selling, then a sociable, well-loved garden could also help you secure the best possible price for your home.

Here are our Top Tips to make your garden a more attractive, enjoyable place
Spring clean
The first and most important thing to do to improve your garden is to give it a thorough clean.
Start by clearing up any fallen leaves and prune your plants (pop them into your composter, if you've got one – they make excellent mulch for your flower beds).
Power-wash your patio, decking and garden furniture – you'll be amazed how much brighter your whole garden will look.

Add decking or a patio
If you don't yet have decking or a patio, create the perfect place to relax in your garden, gaze at the stars or bask in the sun. This is the perfect season for planning a decking or patio project – if you do it now, you should have enough dry weather to get the work done, then it'll be ready to enjoy when summer comes.
Create seating areas
Walled seating areas
If you only have room for one or two chairs, try adding raised flower beds surrounded by walls, to create extra places for people to perch. Add some cushions for comfort, in colours to match your plants.
Multiple seating zones
Getting the seating right is a great way to ensure your garden is a comfortable place – perfect for an afternoon of lounging.

Use climbing foliage and tall plants to provide a sense of seclusion. This can be a great arrangement for families with older children who want to hang out in the garden but like to have their own space and a sense of privacy, too.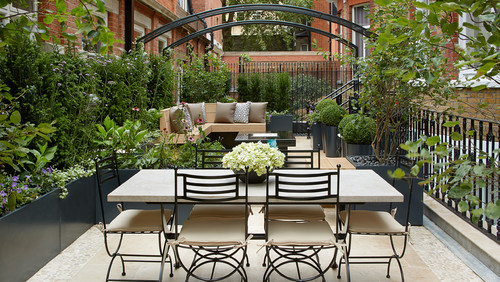 Oversized cushions
Invest in a few oversized floor cushions to bring the comfort of indoor living outside and add a lovely hit of colour. Floor cushions are less permanent than alternative garden seating solutions and they're also easy to pile on top each other for easy storage. Patterned or brightly coloured cushions will also help to inject personality into your garden space.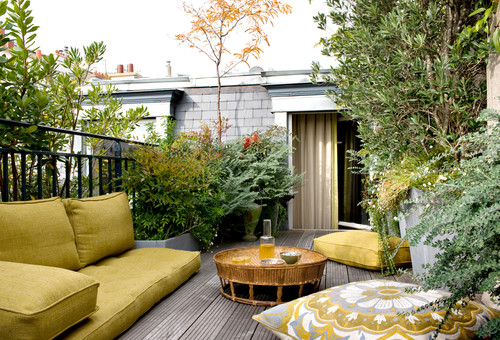 Make it cosy
Firepits, fireplaces or wood burners
Just as in a living room, it's nice to have a focal point in a social space, and indoors this is so often a fireplace or wood-burner. A firepit is a great garden addition and there are lots of designs out there, You can use them in autumn & winter too, as the evenings get colder.
Bring indoor luxuries outside
Details help outdoor rooms seem more inviting and enjoyable. Think glamorous lighting, blankets, rugs and candles to give a cosy feel that would make you want to sit outside, long after the sun's gone down.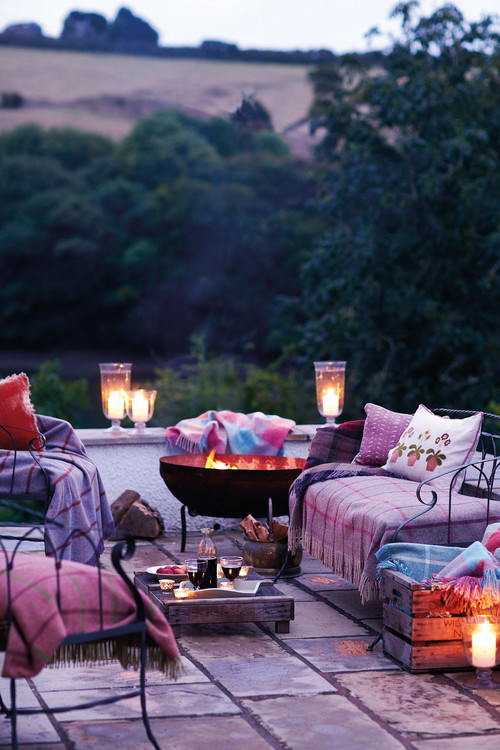 Build a private area
Surrounding your garden with a wall of plants creates a feeling of warmth and will make your get-together seem more private.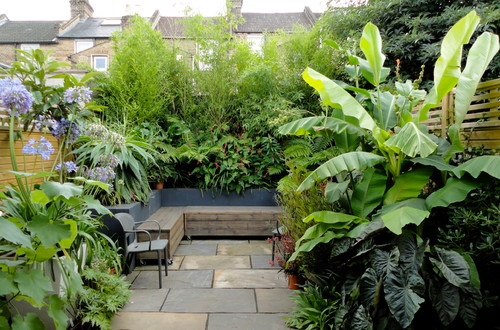 Merge the inside-out
Make your garden feel bigger by making it feel like a continuation of your indoor space. Consider installing large glass doors to bring the outdoors in.
Even if your doors aren't huge, you can still create the same feeling by ensuring your internal floor and patio are at the same level. For a DIY solution, try decking the terrace to raise it to the same level as your door.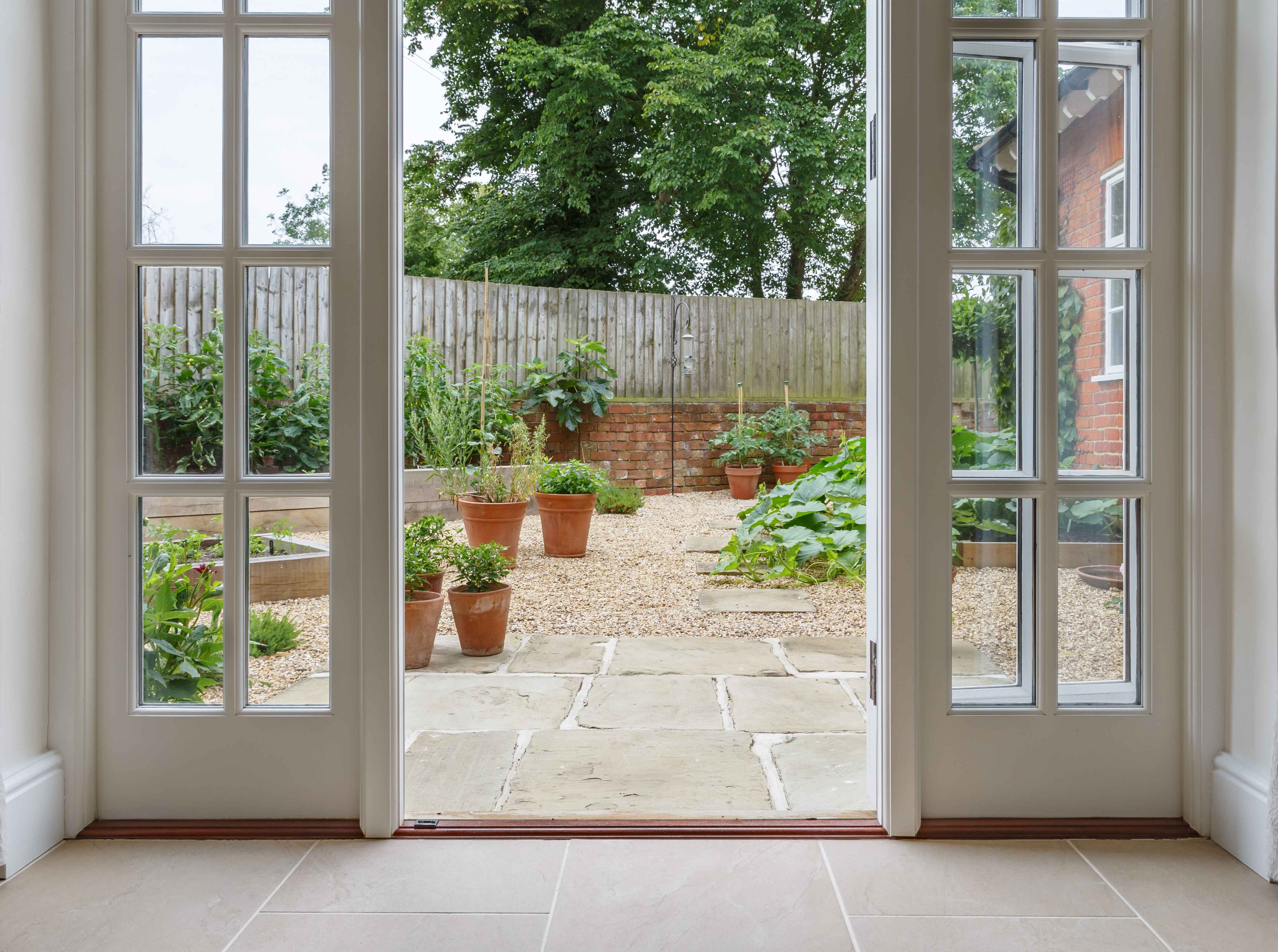 Dine undercover
Don't let typical British weather mess with your well-laid plans. A sheltered dining area is key, both to shelter from rain as well as shade yourselves from the sun.

A shade sail or plant-covered pergola will add hours to your entertaining time. For something less permanent, an oversized beach umbrella can come in handy for beating the heat.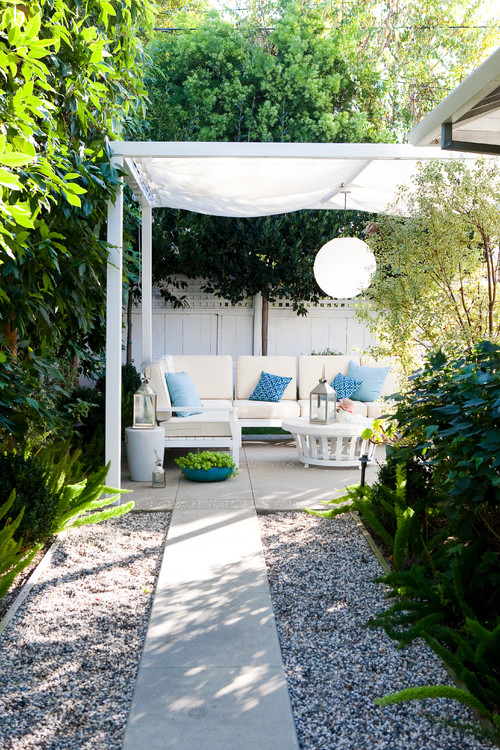 Multifunctional sheds
Lockdown has sent the DIY outdoor bar trend through the roof. Use your garden shed to house garden furniture in the winter, then open it out into a garden bar in the summer months.
Extend the day with lighting
Create the perfect evening glow with different lighting options. Solar-powered lights are a great choice for positioning further away from power outlets, and fairy lights are a fun and inexpensive way to create a festive vibe.

Tip: Whatever style you decide on, make sure your lights are designed for outdoor use, even if your garden area is semi-covered.