Gloucestershire is full of outstanding independent restaurants, cafes and bars - it's one of the many great reasons we love this county so much.
With an endless list of places to eat, drink and relax at prices to suit every budget, we want to celebrate these many amazing independent businesses with our own Top 5 lists.

Let's start with our Top 5 pizzerias in Gloucestershire:
Hooker & Eight
Personally recommended to us, we decided to try out Hooker & Eight's pizza for ourselves and were absolutely blown away! Located in Gloucester's Westgate Street near the Cathedral, Hooker & Eight handmake their own pizza dough and use lots of local produce from independent Gloucestershire businesses, such as Tubby Toms and Stroud Brewery.
Their menu offers options for all dietary requirements including gluten-free, vegetarian and vegan. We personally recommend trying the Half Thyme pizza, with their own vegan pesto or handmade scotch bonnet-based hot sauce.
Fat Toni's
With multiple restaurants located around Stroud, Gloucester and Cheltenham, Fat Toni's is one of Gloucestershire's most-loved pizzerias. Fat Toni's only uses fresh, ethically sourced, sustainable food sources which make their pizzas good for the stomach and the soul.
If you're eating with family or friends, we recommend ordering one of Fat Toni's signature 20" pizzas' which is nearly 3 times the size of a regular pizza!
Settebello
Located on the historical Gloucester Docks with panoramic views from every table, Settebello serves mouth-watering pizzas, crafted using local, sustainable produce. With 4 generations of experience, this southern Italian inspired restaurant puts emphasis on food quality, delivering only the best dishes to your table.
We also recommend trying some of their delightful, photo-worthy cocktails!
Velo Bakery & Pizza at Stroud Brewery
This legendary pizzeria, located just outside Stroud, handcrafts authentic, sourdough pizzas and are open for takeaway or outdoor eating. Diners with a hankering for something sweet can also try the many different patisserie-inspired pastries, freshly made in house and including our personally recommended blueberry cream cheese Danish!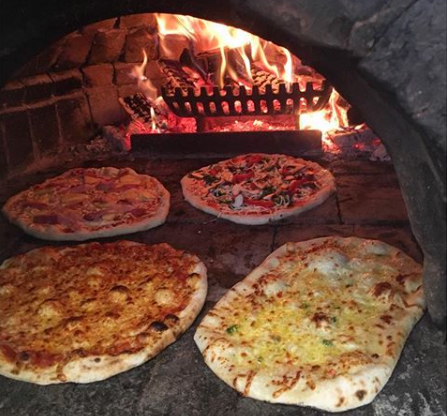 Amalfi Nailsworth
Described as 'absolutely brilliant', 'amazing' and 'simply superb' by many of its diners, the Amalfi pizzeria in Nailsworth has earned over 600 5 star reviews! With an expansive menu, including classic pasta dishes, homemade starters and their famous pizza selection, this restaurant is a little piece of Italy in the heart of the beautiful Cotswold countryside.
http://www.amalfi-nailsworth.com/