A vibrant, historic city in the South West of England, Gloucester is a great place to live and raise a family, offering the perfect mix of modern amenities whilst being surrounded by areas of outstanding natural beauty.
Schools in Gloucester
Gloucester has a number of excellent schools which cater for different ages, abilities and specialities – Use our Locrating tool on the Property Details page to search for schools.
Things of Interest in Gloucester
Gloucester Cathedral is an extraordinary historical building with many treasures that are of national significance. There are lots of areas to explore here, including Gloucester's great Cloister which was used as a location in the Harry Potter films – a must-see for fans of The Chosen One!
Gloucester Docks is Britain's most inland port and a popular local attraction. Visitors can experience a complete Victorian port there, as well as find a rang of modern waterfront bars, restaurants and coffee shops. The area plays host to the Tall Ships Festival during May and a Xmas market, complete with its own ice rink, in the weeks preceding Christmas.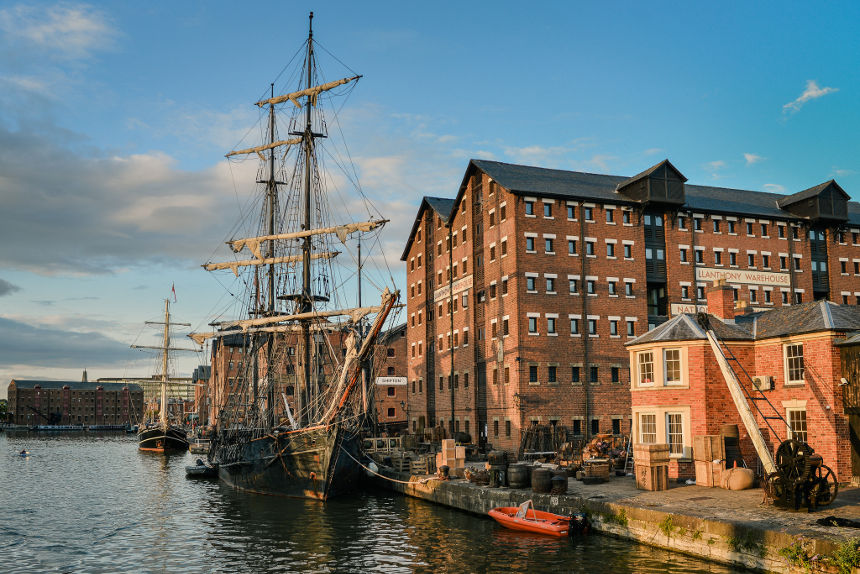 You'll be spoilt for choice shopping in Gloucester, with lots of High Street brands in the City Centre, King's Walk Shopping Centre and Eastgate Shopping Centre. Independent boutiques can be found in The Cathedral Quarter and Gloucester Quays Outlet is just 15 minutes from the city centre. Gloucester also boasts a range of antique shops and flea markets for the collectors among you.
Gloucester is fortunate to have its own Ski and Snowboard Centre. Covering a 12 acre site, it's home to the longest slope in England and Wales and perfect for learners and experienced skiers alike.
Formed in 1873, Gloucester Rugby play their home games in the district of Kingsholm, just outside Gloucester City Centre. The Cherry and Whites play in the Aviva Premiership, the Anglo-Welsh Cup and the European Professional Club Rugby competition.
Travel In and Around Gloucester
Gloucester is located within easy access of the M5 – travelling south from the Midlands from junction 11 and from the South West from junction 12. The A40 runs past Gloucester linking the London / South East and Wales.
Gloucester Railway Station is just a short 5 minute walk from the centre of Gloucester. There are regular services to London, Bristol, Birmingham and Cardiff.
Gloucester is also lucky to have its very own airport, operating out of Staverton. Daily services are scheduled to the Isle of Man, with additional services to Belfast and Jersey.
Coaches run frequently from Gloucester to many UK destinations.
Places to Explore in Gloucester
Gloucester is home to some stunning parks and green spaces, and close to areas of outstanding natural beauty.
Robinswood Hill is a 100 hectare country park on the South East side of Gloucester, rising to 198m (651 ft) above sea level
Gloucester Park is a busy and popular 11 hectare open space located close to the city centre and is the city's premier park, playing host to a cricket festival during the summer.
Covering six hectares, Barnwood Park and Arboretum is located in the Barnwood area and was recently awarded Green Flag status.
A short drive from the centre of Gloucester propels you into the beautiful Forest of Dean and Wye Valley. From the magic of Puzzlewood, caverns and steam trains, to Beechenhurst's Scupture Trail and canoeing at Symmonds Yat, there's something for everyone.
The Cotswolds covers a huge area – almost 800 square miles – and runs through five counties including Gloucestershire. Renowned for being one of the most beautiful parts of the UK, this stunning countryside is right on Gloucester's doorstep.
Did You Know…?
In 1216, Henry III was crowned, aged nine, in Gloucester Cathedral, as Westminster was deemed too unsafe due to civil unrest.
Gloucester has its own famous breed of pig - the Gloucester Old Spot is the oldest known pedigree pig in the world.
September 5th is Gloucester Day, which is usually followed by a week-long local history festival.
Contact Us
As Gloucester's Top-Selling Agent, with five offices plus our Headquarters situated in and around the city, we have a love and in-depth knowledge of the local area and are happy to share this with you. Whether you're looking to buy or rent, sell or let a property in Gloucester, contact one of our friendly teams today.