It's that time of the year where we all look forward to our Christmas break but come the 27th, we're all thinking of things to do and places to go.
De-stress and burn off those extra mince pies this festive season with our favourite winter walks around Gloucestershire and Worcestershire. Wrap up warm and wear some wellies!
Dyrham Park (South Gloucestershire)
Dyrham Park is a nature lover's dream - home to 270 acres of parkland and hundreds of trees.

With its spectacular landscapes and views, Dyrham Park lends itself to exploration through walks around the parkland and garden. Throughout the year, Dyrham Park is the perfect backdrop to enjoy the outdoors. Great walks whatever the weather.

The Winter Trail is perfect for the youngsters and is running until the 3rd January and you can also extend your trip by exploring Dryham House.

This walk is 2 miles (3.5kms)
May Hill (Gloucestershire)
The initial climb on this circular walk is well worth it for the views. You can see Herefordshire and the Severn Estuary, the Forest of Dean, the Cotswolds and across to the Black Mountains.

Perfect for dog walking, countryside walks, taking in breathtaking views and even spotting grazing horses. It's also a great place to go if we get a lot of snow!

This walk is 3 miles (4.8kms)
Croome, Worcestershire
Winter is the perfect time for a brisk walk discovering Croome, watching nature, bird spotting and lots more. You'll just need to wrap up warm and you can take them all.

The Winter welly walk at Croome near Worcester is perfect for those that like a moderately challenging walk through the outer parkland to visit Pirton Castle with fantastic views across the Worcestershire countryside.

This walk is 4.5 - 4.5 miles (7.2 - 7.2 km)
Painswick Beacon
Marvelled for its 360 hilltop views of Gloucestershire and the Welsh mountains, this walk begins in Painswick village, also known as 'Queen of the Cotswolds' because of its picturesque cottages and continues through Paradise Valley, ending at the top of Painswick Beacon.
This walk is clearly signposted and 3 miles (5km) long.
Leckhampton Hill
Located just 3 miles south from the centre of Cheltenham, this walk is ideal for anyone wanting to enjoy the beauty of Cotswold Way while not venturing too far from home. Beginning at the car park on Daisy Bank just off the A435, this walks leads you up to Devil's Chimney (an iconic limestone landmark) and onto the top of Leckhampton Hill, where you can rest and enjoy the amazing view.
This walk is 4 miles (6km) long.
Haresfield Beacon
If you're looking for beautiful wildflowers or perhaps a cycle trail, then the Haresfield Beacon walk is ideal for you. This walk goes through Standish Woods, passing Long Barrow and Vinegar Hill before reaching a trigpoint where you can enjoy beautiful countryside views.

5 miles (7.5 km) long, this route is designed for cyclists, so can be a bit tricky for walkers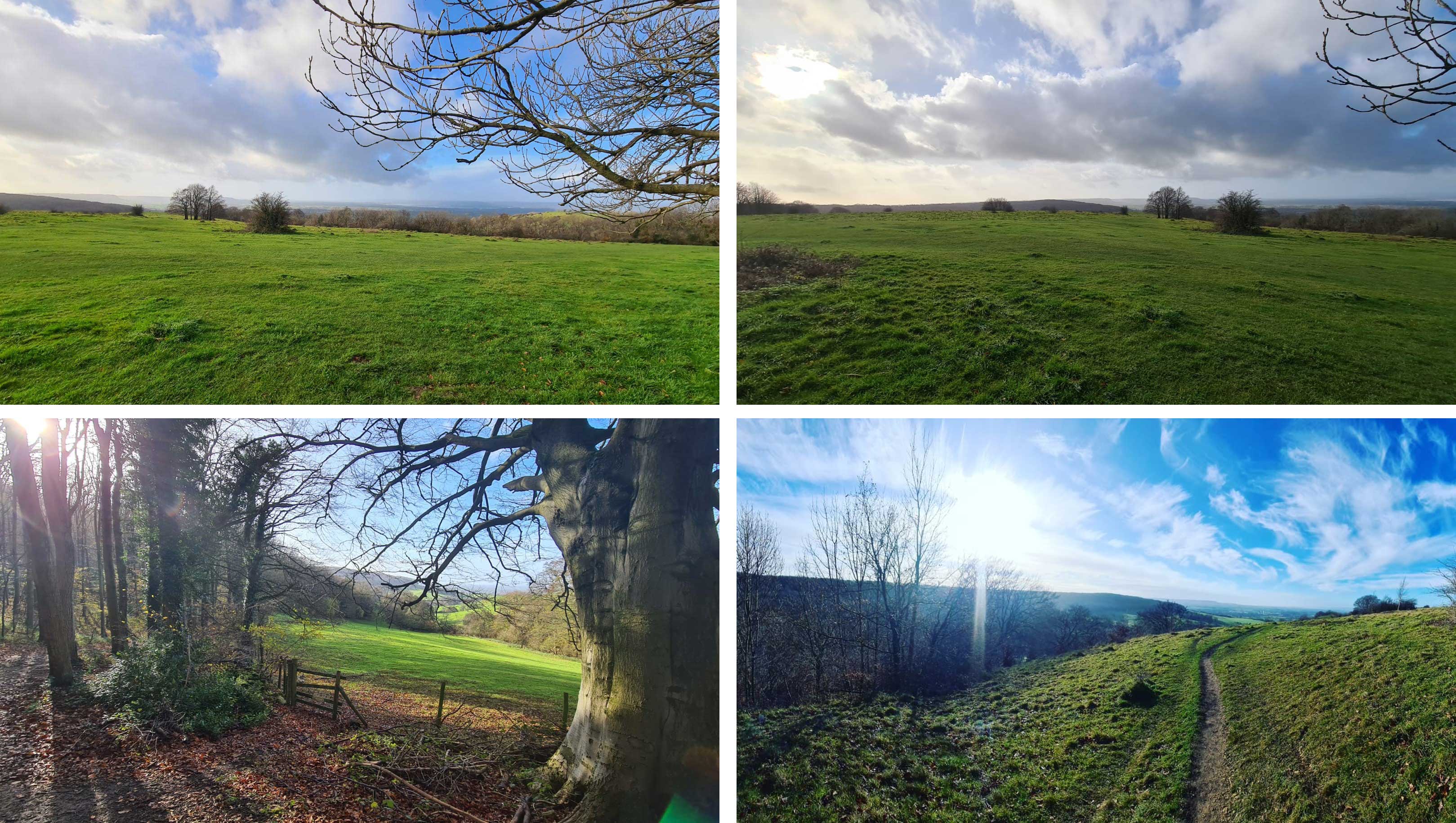 Worcester Riverside Walk
This walk takes you along the River Severn from the Cathedral to the nearby village of Hallow and is ideal for young children or those who cannot walk far, as the route is flat and includes many spots for people to sit down and rest.

This walk is 6 miles (9.8km) long


Martley Circular Walk
One of the longer walks, this also involves some small climbs and may not be suitable for young children or those who are not able to walk far. The Martley Circular Walk flows through the Teme Valley, turns west towards Rodge Hill Farm and continues onto Pudford Hill, where you can enjoy scenic views.

This walk is 6 miles (9.8km long)