With more homebuyers than ever before looking for a lifestyle change, it's no wonder that the Five Valleys attracts interest from out-of-town buyers - but if you don't really know the Stroud area, how do you choose where and what to buy?
Here's our key questions to ask an estate agent if you're moving to Stroud.
Which areas would you recommend?
This will depend on your priorities. If you have a family, for example, and you're looking to be close to great schools, then consider a move to Woodchester, Chalford, Cashes Green or Cainscross.

If commuter links are important to you, you may want to be based closer to the motorway, so Eastington or Stonehouse would be good options. Properties in Uplands, Lansdown or Nailsworth might suit those needing to be within walking distance to amenities and facilities.

If your wish list includes green space on your doorstep, then homes located in Selsley or Rodborough could be ideal. Those keen on walking, running or cycling could prefer Ebley, which is close to the Stroudwater Canal, whilst anyone looking for great views across the valleys should consider homes in villages such as Randwick, Slad or Whiteshill.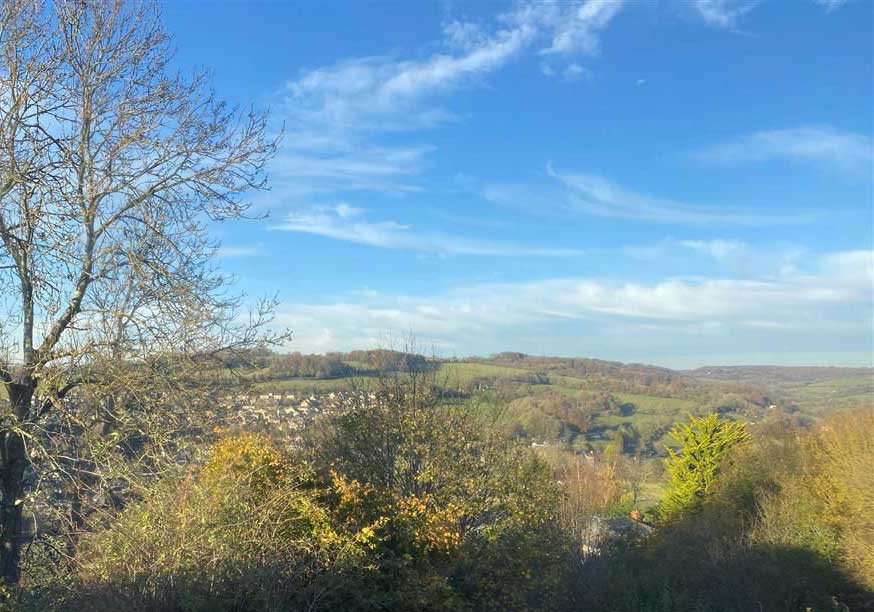 Ultimately, the area you choose will also depend on the type of property you'd like to live in - if you're looking for a remote, "chocolate-box" cottage, then try villages such as Sheepscombe, or for a more modern and accessible home, try new-build developments such as Great Oldbury in Stonehouse or Saxon Gate in Leonard Stanley.
Where are the good transport links?
With easy access to the M5, via junction 13, Stroud is easily commutable by road to Bristol, Gloucester and Cheltenham, as well as having good roads to Cirencester and Bath.
Additionally, both Stroud and Stonehouse have train stations with direct lines to London, Gloucester, Cheltenham Spa, Kemble, Swindon and Reading. The rest of the South West, the Midlands, and beyond is also easily accessible via a change at Cheltenham Spa.
Property outlook and what can I get for my money?
While property prices across Stroud have risen by 12% in the last 12 months*, one of the great things about this area is the variety of property on offer. From multi-million large estates to one-bed apartments, there's something here to suit every budget.
*Data taken from Land Registry
How can I make the most of my viewing days?

Do your homework first by viewing the walk-through virtual tours of all the properties you're interested in before you commit to viewing them in person. These tours are especially valuable if you're travelling from out of town, in order to make the most of your time in Stroud. A good virtual tour can give you a real sense of the dimensions and feel of a property before you visit it, so you won't waste time viewing homes that aren't really for you.
How long will the sale take?
We understand you'll be eager to move straight into your new home, but unfortunately the buying process has been lengthened slightly by the pandemic. However, choosing an agent with a dedicated Sales Progression team, like ours based in our Head Office, can help to move things along and get the purchase completed as quickly as possible for you.
As well as this, there are other things you can do to speed up the buying process. If you need to borrow money to buy, then talk to one of our professional mortgage advisers to find out how much you can borrow before you even start looking. Likewise, ensure you instruct a Conveyancer and complete your paperwork as early as you can, so that when you've found your dream home you'll be able to move as quickly as possible.
As a leading local estate agent, our local team has an in-depth knowledge of Stroud and the Five Valleys, so if you're thinking of relocating to this area, talk to our Stroud team today, who'll be happy to advise you.
Or find out what we have available for sale in and around Stroud and the Five Valleys.