With summer nearly over and the nights beginning to draw in, what better time to start getting your home back in order.
Whether you're trying to relieve stress by controlling the clutter, or you need to purge your belongings before moving home, here's our top tips for decluttering this Autumn:
1. Create storage for everything
It's much easier to keep your home clutter-free if you have enough storage.
Although popping your keys, wallet and post on a small table might be convenient, it will soon make your house feel cluttered. When things get scattered all over, they become much harder to find when you actually need them – instead, invest in enough storage so everything has a proper home and always keep them there – that way, when you next need your keys, you'll know exactly where they are.
2. Quality over quantity
Get into the mindset of buying and having fewer things but making them the best quality you can afford - this really does work!
Before you buy something and as you go through what you already own, ask yourself if it will serve its purpose for a long time. Is it something that can be used frequently and for a long time?
3. Edit before you organise
This works particularly well for kitchens and bathrooms. Take everything out of your cupboards and throw away anything out of date or that you've been keeping hold of "just in case". Doing this before organising will ensure you're not wasting time and space on things you don't need.
4. Use your dining table for dining
Don't let your dining table turn into a storage area. It's so easy for the kids to dump their school bags on it, or to put paperwork down for a "moment", but try to keep it free of clutter and dedicated to family mealtime.
5. Don't overlook hooks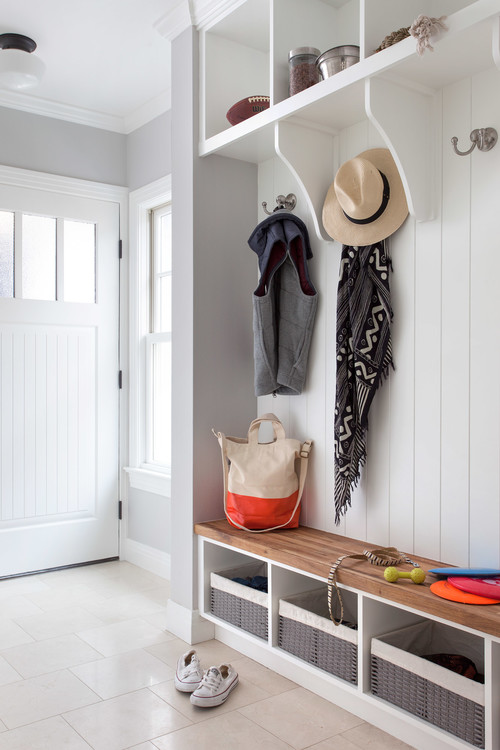 Hooks are a great way to keep things tidy around the home.
If you have things by the front door that are 'in-transit', instead of allowing these items to pile up, try using wall hooks to keep them tidy. Similarly, use hooks in the bathroom to keep bulky towels out of that much needed drawer space.
6. Don't start a "stair pile"
Or any other pile for that matter! We've all been there - you pop a couple of things down and before you know it, your small pile has become a mountain.
If you're constantly collecting things on your ground floor that belong upstairs, unless you're super organised, they may be accumulating on your stairs. Consider adding a basket to the stairs to keep the area tidy. Just be sure to go through that basket every day to take items to their proper floor and ensure it doesn't start overflowing!

Once you have an area of your home decluttered, take the time to enjoy that look and make that your standard. Learn to love the uncluttered look. Happy decluttering - your journey starts here.