Bathroom trends have changed over the years and renovating yours can be a great way to boost the value of your home – along with kitchens, they're one of the rooms that buyers pay most attention to.
Property Centre Guide on Increasing Property Value up to 5% by Adding a New Bathroom
Typically, an updated bathroom can potentially add between 4-5% to the value of your home. Of course, this varies depending on your design and build. Even if you're not planning to sell right now, renovating is a good way to invest in your property, plus you end up with a bathroom that works for you and your family.
First and foremost, bathrooms need to be fresh and hygienic-looking, but they're also a great place to add a touch of luxury for that value-adding wow-factor.
Plan the layout
Whether you are just making a few cosmetic changes or doing a complete refurb, planning is key. Be clear about what you need – do you want to create a sanctuary to soak in, an invigorating space to start the day or a practical family bathroom?
Fundamentally, a bathroom must work. That means it should feel natural to use and be easy to clean, and all the essential elements must be accessible, clear, suitably lit and functional.
If you have young children, it's best to stick to a classic layout with a bath. If you have older children or just prefer showers over baths, then consider swapping your bath for a large walk-in shower. Remember to bear in mind that if you're looking to sell your property at some point in the near future, it's important to keep at least one bath in your home, as buyers will usually want both options.
You might even consider two basins to save arguing over whose turn it is in the mornings! It's also something to think about if you're planning on selling – this luxury feature is a memorable selling point that could encourage prospective buyers to make an offer.
Upgrade your shower
A brand-new shower will instantly make your bathroom appear cleaner, brighter and more inviting. There are many different types to choose from - electric, thermostatic mixer, digital, power showers, rain shower heads, wet rooms and shower columns, as well as options of a screen or sliding glass doors.
Do your research and consider which shower type would suit your needs and space and make sure to opt for something that fits with the overall look of your bathroom.
To create a dream bath-time sanctuary and wow factor, you could think about adding a freestanding bath.
Don't forget storage
Be sure to think about what you need to store in your bathroom and design appropriately for it.


If you're looking to sell your home, storage is often a make-or-break factor for buyers. Built-in and freestanding cabinets are popular, but you can also get custom-made units to fit into awkward spaces. If your bathroom is smaller, consider shelving to utilise empty walls – the more floor space you have, the larger your room will appear.

Under the sink is a great place for storage or even a discreet drawer inserted into the side of the bath.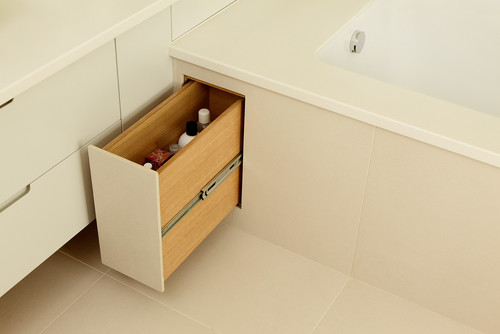 Let in light
Bathrooms are frequently given the residual spaces that are left once the bedrooms have taken the best spots and windows but spare a thought for those relaxing, contemplative times spent in the bathroom. Be sure to make the most of natural light from windows.
Use light, bright colours to make your room seem larger and frame your window with a blind in a contrasting colour.
If your bathroom is window-less, then make sure you've got bright spotlights in the ceiling and add a mirror or two to make the space seem larger and brighter.
Add an ensuite
If your master bedroom has the space, consider creating an ensuite. Research suggests that adding an ensuite could increase your chances of a buyer making an offer, to save them the effort of putting one in.
Make sure the bathroom has an extractor fan for ventilation.
Make sure flooring is clean and hygienic. Go for vinyl or floor tiles.
Replace existing sanitaryware if it is chipped, badly stained, or an unfashionable colour such as pink or avocado. A basic white bathroom suite will have a much broader appeal.
Make sure that at least one bathroom has a shower and at least one has a bath – this is essential for most buyers.
You could also consider the following to add appeal to your bathroom when selling:
Consider painting unfashionable tiles with white tile paint or tile over them
Think about adding a heated towel rail
Consider underfloor heating if you are laying new floor tiles
Aim for a ratio of one bathroom to every three bedrooms and if your bathroom is downstairs, consider moving it to the first floor.
Tried & Trusted Local Recommendations
Our team have recommended their favourite local tradespeople for updating your bathroom.

Jodie Riddel, Assistant Manager of our Property Management team recommends Matt from Oriel Property Maintenance in Quedgeley.

Leon Holder, Branch Director from our Abbeymead office recently used and recommends both Bros's Building & Carpentry Ltd and AJ Tomlins Plumbing & Heating in Gloucester.

James Morgan, Branch Manager from our St. John's office recommends Loves Plumbing and Heating in Worcester.
If you're planning to add value to your home with an updated bathroom, remember to focus on the projects that will make the most impact and choose improvements that suit your home.

For an up-to-date valuation of your home, request a property valuation from our expert team.