With Summer nearly gone, September's a great time to prep your garden ahead of the Winter months.
Moreover, with heightened demand for outdoor space, if you're thinking of selling this Autumn, ensuring your garden looks in tip-top condition could help you get the best possible price for your home.
Here's our top tips for getting your space primed to sell, bloom next spring and be useable all year round.
Plant Autumn flowers to attract bees
This is a great time for planting new wildlife-friendly perennials for next year, and to sow wildflower seeds. Annuals sown in the autumn tend to flower earlier the following year.
A favourite with bees, butterflies and moths, Helenium is a flowering plant that will keep your garden blooming late into the year with its orange flowers.
Air your lawn
To keep a lawn looking lovely, it's important to look after it all year round. Remove dead grass, moss and weeds that have built up over the summer, as leaving it could restrict air movement and cause drainage issues.
Plant Spring bulbs
Autumn is the perfect time for planting spring bulbs. Bulbs flower in sequence, so it's important to pay attention to flowering times to have a longer flowering season.
Take cuttings to grow more plants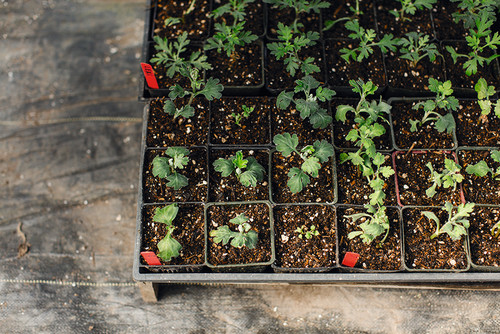 September is the perfect time of year to take cuttings from tender shrubs and half-hardy perennials. They'll form a good root system more quickly before the cooler weather sets in. It will also give you the chance to increase your stock of those plants that may not make it through the winter months.
Remove broken pots
As part of a general end-of-season garden tidy, take stock of your pot collection. Broken pots and general patio clutter can build up unnoticed over the summer and both provide great places for slugs to lurk.
Feed the birds
Providing food for birds year-round is a wonderful way to encourage them into your garden and to provide them with a secure source of food, especially over the winter months.
Now's a good time to throw away old bird food and give your feeders a thorough clean and put them back with some fresh food.
Build an outdoor firepit
Firepits create a nice feature in any garden and are perfect for dry autumnal evenings, meaning you'll be able to spend much more time outdoors.
Be bonfire safe
Take care when you're making bonfires, as hedgehogs and other small animals may have snuggled down inside the piles of leaves and sticks you want to burn. The best way to keep them safe is to construct your fire just before you light it.