Whilst lots of properties have a garage, fewer than 50% of homeowners actually use their garage to park their car in it.
This is usually because family saloons and SUVs are now too large to get in and out of when parked in a garage. Typical models on sale today are 1.8m wide, whilst the average garage door width is just 2.1m, meaning domestic garages are often now unfit for their intended purpose.
A garage conversion, when built on an existing footprint and without compromising garden space, is almost a guaranteed return on investment. A converted garage can add between 10-15% to a home's value. As house prices increase, the value of the converted space relative to build costs improves and could be a strong incentive to undertake a conversion project.
We've got 10 ideas for ways to convert your garage and make the most of your existing under-utilised space.
1. Kitchen extension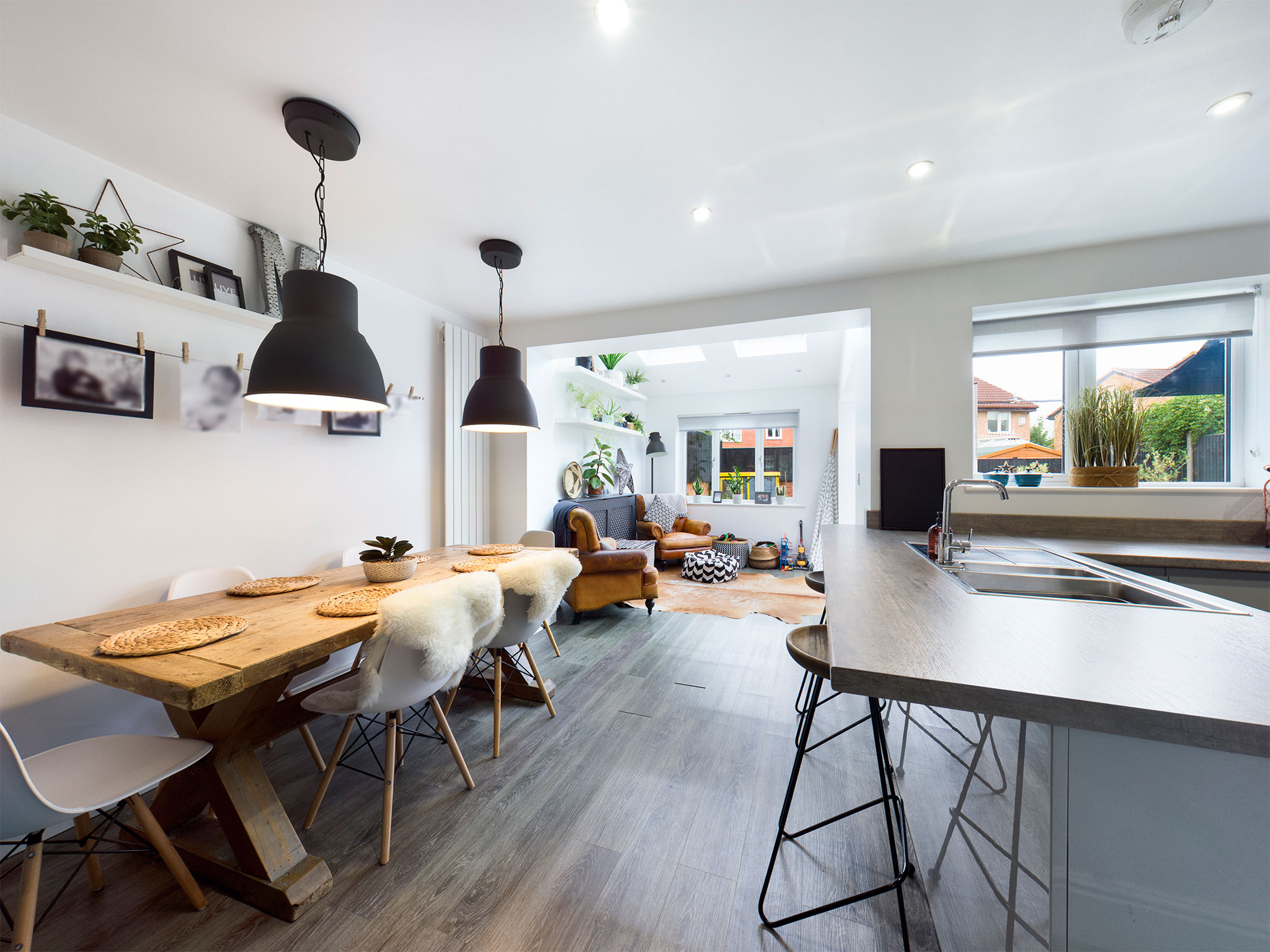 If your garage is adjacent to your kitchen, knocking out the wall between the two to create one larger family kitchen or kitchen/diner is a great idea.
Knocking the two rooms into one really opens up the space for reorganising your life and making the space work for you. That extra space can provide scope for a large central island unit or oversized table, or there's the option to create and reposition walls.
You can increase the amount of light entering the new space by incorporating a roof lantern or a run of skylights— a great way to flood the space with light and make it feel more spacious.
2. Extra bedroom
Depending on the existing layout of your property, you may wish to convert your garage into an additional bedroom. Turning the garage into an extra bedroom might cost around £15,000, which, when compared with moving house to gain that extra bedroom, is a much cheaper option. It's also a project popular with those with an eye on future mobility and care needs. You could also break the space up with a stud wall and include an en suite.
3. Games room / home cinema
A home cinema garage conversion is a brilliant idea for lots of reasons. Firstly, the conversion gives you the opportunity to pack in plenty of soundproofing — meaning the whole house won't have to listen to your film.
Secondly, as you are starting from scratch, you can include as many power outlets as your new entertainment system will require. You can also tailor the lighting and think about furniture placement with a blank canvass mindset.
4. Dog room

If you've acquired a dog during lockdown, you'll be familiar with the mess by now. A dedicated and bespoke dog room in the garage could be just what you both need. Fit a deep sink and a spray tap to make things easier when getting back from a muddy walk.
5. Gym
Whilst it's feasible to position workout equipment elsewhere in your house, this tends to take up a lot of space — which is why housing a home gym in a garage conversion is a great idea. Not only can it save you travel time and money on expensive gym fees, but it allows for a personalised exercise regime and is safer from a social distancing point of view.
Having a dedicated space will allow you to kit out the space with hard-wearing, slip-resistant flooring that may not be suited to other areas of your home and install a window and use some mirrors to maximise light and create a welcoming environment.
6. Playroom
Garage conversions often make brilliant playrooms. Keeping the newly refurbished space partially open to an adjacent kitchen makes it possible to supervise younger children while carrying out day-to-day jobs. Make sure you add lots of built-in storage options for toys.
Try utilising colour to create a stimulating yet calming environment. Yellow is a great learning colour because of its ability to increase concentration and memory.
7. Utility room
If you dream of a streamlined kitchen design, but your washing machine's standing in the way, creating a utility room in your garage could be the solution. Utilities have evolved from a place to store and do laundry to a hardworking storage space, freeing other rooms of unsightly items and clutter.
8. Teenage study / hangout
Creating a study/hangout are for teenagers is really a good idea because it gives them their own space. Key to the success of this project is adequate electrical sockets and wi-fi provision. Always use a NICEIC-registered electrician for installations and ask a local wi-fi specialist for advice on getting online, because you'll have to supplement existing provision for the extra room.
9. Home office
Garages are usually located away from the main living areas and allow for a self-contained entrance for work-related visitors.
Include features such as plenty of built-in storage, lots of power outlets, a good source of natural light and consider incorporating space for tea and coffee making facilities, a sink and even a toilet if you are likely to have visitors.
10. Business premises
If you're planning to bring the office home permanently, you might decide to set up shop in the garage. Creating a business premises means you are likely to need Change of Use approval from your local council. Also, check that there are no covenants in your deeds forbidding the use of your home as a business address. Keep future buyers in mind too - as well as mains water, power and lighting, purchasers look for underfloor heating, air conditioning and fully networked and integrated spaces.
Before you start
Always check with the local planning authority before starting a garage conversion. Removing walls, adding windows or making other significant changes will usually require planning permission.
You'll also need building regulations approval for heating, lighting, insulation, damp-proofing, ventilation and fire precautions.
Be sure to tell your mortgage company and your buildings and contents insurer that you're converting the garage.

If you're thinking of converting your garage to utilise the space in a better way, speak to one of our expert valuers first to find out what your property would be worth before and after.